EDCO: The Largest Military Spec Inventory in the US
18 Jul, 2017
EngageNewswire.com is a high ranking blog, press release and news publishing website. We publish content from trusted sources.
In the early 20th century materials such as aluminum and several types of plastic were developed and incorporated into packages to improve their performance and functionality. Lots of the most prominent innovations in the packaging industry were first developed for military use.
Although some military supplies are packaged in the same commercial packaging used for general industry, some other military packaging is supposed to transport special materials, food, supplies and others under really challenging distribution and storage conditions. That's why during World War II mil spec regulations started being applied to packaging.
In 1954, Edco Supply Corporation was founded in Brooklyn, New York and for more than 60 years they've been leading the military specification packaging industry as both converter and supplier.
Their product line has steadily grown over the years and now includes desiccants, anti-static materials, static shielding materials, commercial barrier material, folding cartons, indicator cards, and many other products. Whilst manufacturing remains in Brooklyn, they also keep distribution centres in Ohio and Quebec, Canada.
Each and every one of Edco's mil spec packaging orders are individually inspected and shipped with a signed certificate of compliance. Their customer service reps (CSRs) are trained in all of our products and can provide you with the correct information to meet the requirements of your military contracts. Edco's experienced staff will provide you with the knowledge and advice to make sure your products are protected and packaged for the long haul.
Edco has the largest military spec inventory in the US and these are just a few of the products they feature on their website:
Mil Spec Packaging:
Although mil spec packaging is quite similar to commercial grade packaging most of the time, the former is subject to more stringent performance and quality requirements and controls.
VCI Paper: VCI Paper
Used for protection of the inside of bags, boxes and cupboards that contain tools or parts One of tne of the advantages of VCIs (Volatile corrosion inhibitors) are that the levels of inhibitor will recover even if the container is opened and reclosed. VCI paper is is a solution for protecting ferrous materials and non ferrous metals from corrosion and oxidation when surface treatments are not feasible.
Static Shielding Bags & Anti Static Bags: Static shielding bags
Also known as anti static bags. They're made of polyethylene terephthalate (PET) material and depending on their contents, they can be silver, black or pink. Static shielding bags are made following the Faraday Cage principles, which eliminate external static and non-static electric fields, protecting your electronic components from static and electrostatic discharge-based damage.
Military Tape
Edco manufactures and distributes several kinds of filament tape, PVC Tape, masking tape, Copper foil tape, and various military specification tapes. They also convert tape to custom widths.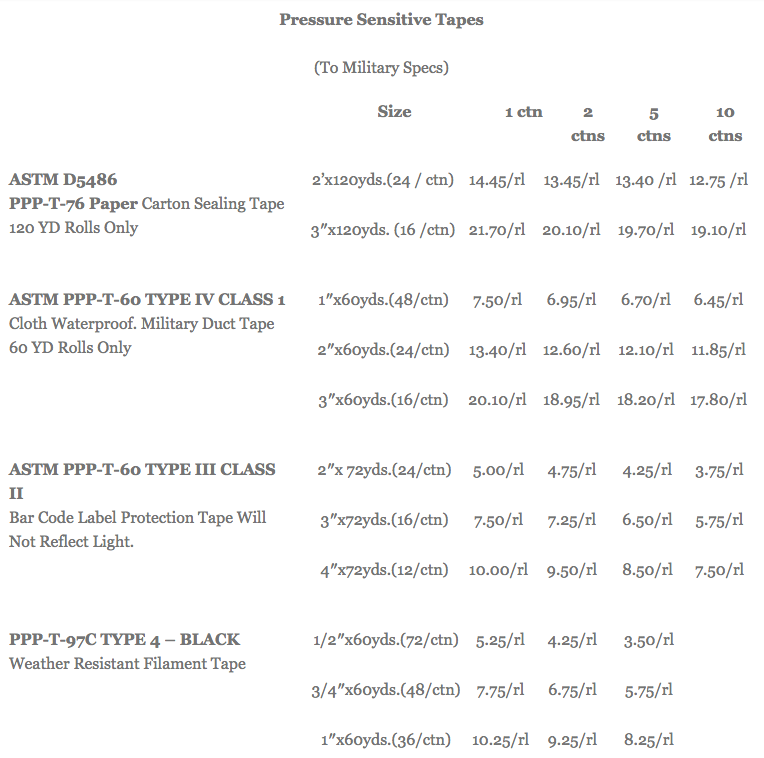 Moisture Barrier Bags
Edco offers a wide range of solutions and moisture barrier bags and packages specially designed to protect moisture sensitive items and devices from environmental elements that might damage them.
Desiccant Packs & Desiccant Bags
A desiccant is the opposite of a humectant and they're used to preserve the crispness and dryness of certain products, like medicines and some foods as well as other items. Desiccant packs and desiccant bags contain a solid substance that absorbs water and helps keep the content of a package dry. It usually comes pre-packaged, such as silica gel bags but desiccants for specialized purposes can also come in other non solid forms as well.
Protective Packaging
To help preserve items and devices inside a package from shock, vibrations and any other potential structural damages associated to transportation, storage and poor handling it is necessary to add cushioning to a package. There are several types of protective packaging, elements and materials vary depending on the content of each package.
If you're on the lookout for military spec packaging solutions, get in touch with Edco Supply Corporation calling at +1 800-221-0918.
EngageNewswire.com EngageNewswire.com is a high ranking blog, press release and news publishing website. We publish content from trusted sources.