Press Releases
New Choice for Small and Medium Companies with Technology Support Needs in NYC
For Immediate Release
For information Contact: Lori Thompson: PR@EngageNewswire.com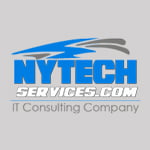 New York, New York August 24, 2012 – It's no secret that full-time IT support staffers are expensive. NyTech provides a cost efficient solution for small businesses looking to reduce their overhead costs while still retaining quality IT support. After many years of successfully serving the IT management and consulting needs of businesses based in Dutchess and Westchester County, two northern suburbs of New York┬á ÔÇÿNY Tech Services LLCÔÇÖ has expanded into the New York City market with a new location at 1221 Avenue of the Americas,┬áNew York, New York 10020.
This statement of growth, released to the press on August 24th, came as little surprise to their current clients. Nelson Penagos, co founder of the company remarked that ÔÇ£It has always been our primary goal to deliver the highest quality of work at the best possible value to our clients. We knew that it was the right time to expand our tech services to the New York City area and are eagerly looking forward to continue to deliver our valued services to many new clients.ÔÇØ
NYTech Offers tech support NYC, tech support Westchester, and tech support Dutchess and is currently the leading affordable small business tech support company in the tri-state region. Not only is NY Tech Services LLC ÔÇÿs services more affordable than the competitors they also do not lock small businesses into any contracts. Their services extend far beyond basic IT desktop support. NYTechÔÇÖs IT Consultants are accomplished experts in Network Security, Windows Server Implementation, Linux Server management and much more. Additionally NY Tech Services LLC offer remote support services such as remote monitoring, enterprise level online backups, asset and inventory tracking, patch management and client reporting.