Press Releases
What gutter material is right for your home and budget?
Replacing your guttering system can be a difficult exercise thanks to the wide selection of materials now available. This guide is designed to help you pick out the gutter thatÔÇÖs right for your budget, and that suits your homeÔÇÖs style as well as the climate you live in.
Plastic or vinyl gutters
While these are sturdy, and are most certainly straightforward to cut to size and the simplest to install yourself, plastic or vinyl gutters are not right for all climates.
The pros are hard to ignore: they are very affordable (initially), and are not prone to rust and rot.
However, the cons certainly do paint a more troubling picture: plastic or vinyl gutters are not durable, and nor are they made to last in climates with extreme temperatures (from extreme highs to frosty lows). Moreover, excess sunlight can cause unsightly discoloration and eventually cause the gutters to deteriorate, decreasing the curb value and overall appeal of your home. There is a way around this though; if you pay slightly more for good quality vinyl gutters, the color wonÔÇÖt fade quite as fast.
The other extreme ÔÇô cold weather ÔÇô is also not conducive to the longevity of your plastic or vinyl gutters because they can crack under the pressure of ice cold temperatures (thus costing you more in the long run).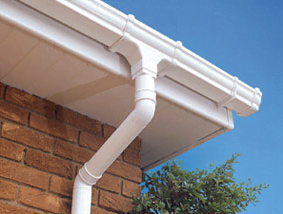 Aluminum gutters
Aluminum is a reliable and very common gutter material these days.
Aluminum does not cost as much as other materials, but can make your home look fantastic because it can be painted the same color as the exterior. Better yet, it is lightweight, fairly simple to install, and resists rust and decay. Another benefit of aluminum gutters is that they can come in different thicknesses to suit your needs. For example, if you live in a particularly cold climate with snowfall in winter, it is best to consider a thick gutter.
The downside of aluminum is that it is easily damaged by falling objects such as tree limbs and other debris from storms. Moreover, leaks are a common complaint of homeowners with aluminum gutters. This can put a strain on the whole system and you may even need to replace certain parts, leading to yet more expenses.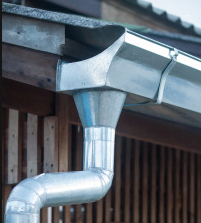 Galvanized metal and stainless steel gutters
These are very sturdy and a great option for homeowners who live in places that experience harsh weather. While galvanized metal and stainless steel gutters have a higher cost initially (for example purchase and installation costs are higher than for plastic, vinyl, and aluminum gutters), they can save you money in the long run because they donÔÇÖt require as much upkeep.
The downside of galvanized metal gutters is that they are less aesthetically pleasing (and can get rusty if not properly looked after). The other hassle is that they need to be completely painted over every now and then.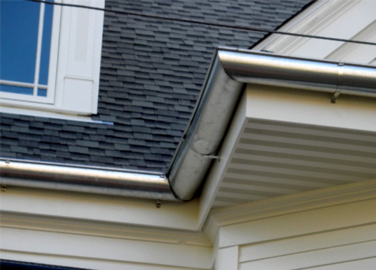 Stainless steel gutters on the other hand are the sturdiest, but also one of the more expensive materials. Stainless steel gutters get top marks because they are known to keep their shine, resist damage from severe weather, and generally stay rust ­free for roughly 20 years.
Copper gutters
But wait, theres more. Top marks (and an empty bank account) go to copper gutters. This is because copper gutters are very aesthetically pleasing, durable, and never rust or need painting. Needless to say, cooper is an expensive choice, but will do you favors in the long run as it takes little to maintain.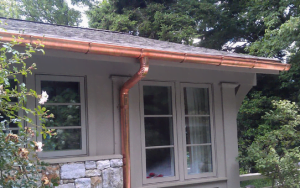 If youÔÇÖre still having trouble deciding which gutter material is right for your home and budget, then give your local experts Westchester Gutter Cleaning a call.
Call Westchester Gutter Cleaning for affordable and prompt service.